Frank Uytter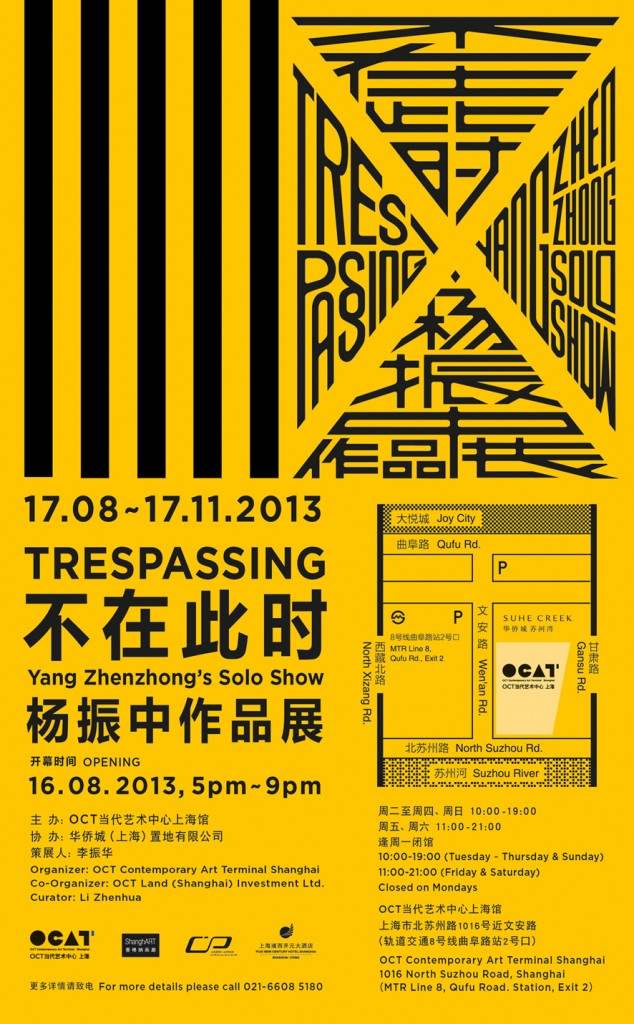 Trespassing – YANG Zhenzhong's Solo Show
From 17th August to 17th November 2013 at OCAT, OCT Contemporary Art Terminal Shanghai, 1016 North Suzhou Road, Shanghai
Opening: 16th August 2013, 5 – 9pm
Curator: LI Zhenhua
Curatorial Assistants: Mariagrazia Costantino, GENG Boyuan, TAO Hanchen
Press Office: YUAN Qingyi
OCT Contemporary Art Terminal Shanghai is pleased to announce Trespassing – YANG Zhenzhong's Solo Show, from 17th August through 17th November 2013. This is YANG Zhenzhong's first collaboration with Chinese public art museum. The solo exhibition will be embracing a wide-range of creation including both installation and video installation, whose presentation outlines parts of YANG's career as an artist, unfolding unreservedly the diversity of the media applied and inherent coherence of his artistic language.
One of the recurring themes in YANG's work is the urge to emphasize with an irreverent attitude the many contradictions and derangements of society, aberrations which can only be dealt with by playing with them, turning them into seemingly innocent games or funny scene.
Another theme central in YANG's research is the (mis)perception of space and its political and psychological appropriations. The site-specific work Trespassing should be conceived as an all-embracing pedestrian crossing in which the typical pattern of black and yellow stripes covers the entire area of the installation which is designed to be walked through and explored. As soon as the viewers enter the space, they receive a sense of displacement, as if walking on top of automatic traffic barriers, as well as the possibility to overcome physical limits and transgress spacial norms. YANG's urge to achieve a deeper understanding of society and its spaces (both physical and conceptual) can be seen in the desire to actively involve the visitors.
The apparent mismatching of the English and Chinese titles of this exhibition activates an even deeper level of meaning. While the English title refers to disrespect of normative laws regarding space, the Chinese one alludes to time and can be literally translated as "not at this moment", which hints at a missed correspondence or intentional absence. Still, the two titles prove to be complementary: "Trespassing" allows us to be where we should not be, to go where we are not supposed to go. Definiteness of time is sacrificed, but corresponding space is compensated.
Born in 1968 in Hangzhou, Zhejiang Province, YANG Zhenzhong has been living and working in Shanghai since 1997. One of the most important artists in the area, he has curated and organized, along with other local artists, a dozen of highly influential contemporary art exhibitions in the past dozen of years. They have not only enlivened the atmosphere of the new media art industry in Shanghai, but also helped with the promotion of the artist himself onto an international stage. YANG has previously displayed in a string of exhibitions including Venice Biennale, Shanghai Biennale, Asia Pacific Triennale of Contemporary Art, Lyon Biennale and so forth. His works can also be found in collection of significant public and private institutes such as MoMA New York, IKON Gallery (UK), Fukuoka Asian Art Museum, Musée National d'Art Moderne and the UBS Collection.
Organizer: OCT Contemporary Art Terminal Shanghai
Support: OCT Land (Shanghai) Investment Ltd.
Sponsors: ShanghART Gallery, CP Denmark+WTi Group, PUXI NEW CENTURY HOTEL SHANGHAI
Special thanks to Uli Sigg, K11 Art Foundation, Bund18
X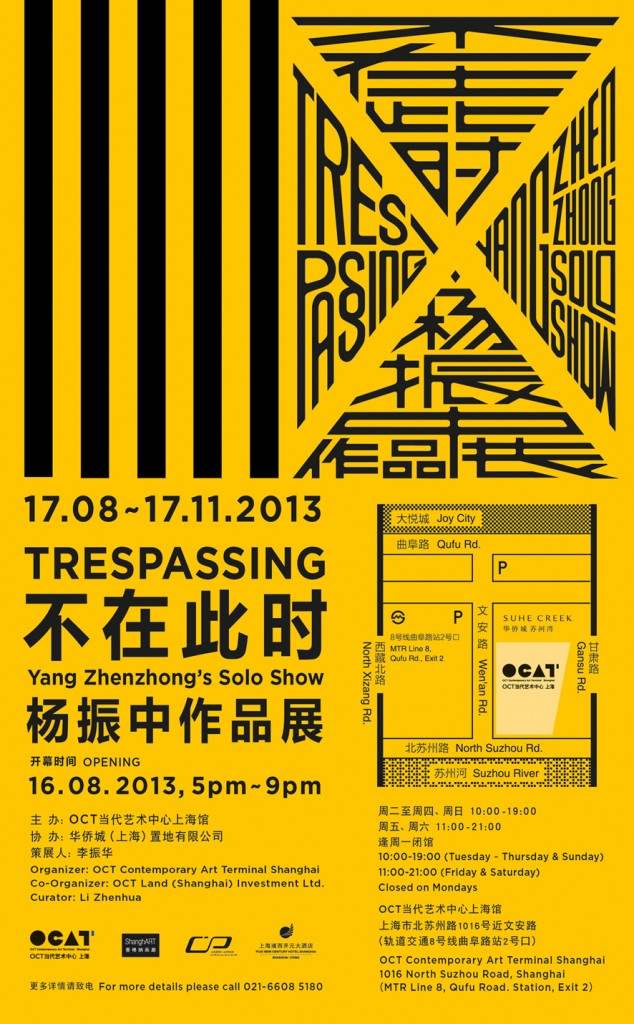 不在此时
杨振中作品展
OCT 当代艺术中心上海馆, 上海, 北苏州路1016号
日期: 八月-16, 2013 - 十一月-17, 2013
参展艺术家: 杨振中
展览时间:2013年8月17日至2013年11月17日
展览地点:OCT当代艺术中心上海馆,上海市闸北区北苏州路1016号
开幕时间:2013年8月16日下午5点至9点
策展人:李振华
策展助理:玛丽娅·科斯坦蒂诺、陶寒辰、耿泊渊
媒体统筹:袁青仪
2013年8月17日至2013年11月17日,OCT当代艺术中心上海馆将推出建馆后的第三个展览《不在此时——杨振中作品展》,这也是杨振中首次与国内公共美术馆合作的个展,囊括了从其九十年代末起至今创作的录像装置、单频录像、装置等十余件作品。这些作品的聚集清晰勾勒出杨振中创作的部分轨迹与脉络,并充分展现出其艺术媒介和语言表达的多样性及内在的一致性。
杨振中创作的主题之一,便是以玩世不恭的态度强化社会中存在的大量矛盾与错乱。这种社会偏差被艺术家以一种戏谑调侃的方式来处理,营造成为某种看似纯粹或有趣的游戏场景。
其作品的另一个核心主题,是对空间的感知(或误解)以及在政治和心理层面的空间利用。以空间装置《闯入》为例,该作品被设置成一个包罗万象的人行横道线,那种常见于交叉路口的黄黑条纹充斥于空间,让观众们穿梭其中。而进入空间的观众在产生空间错觉的同时,也会对空间感知产生重新认识的可能性。杨振中渴望表达对社会空间(包括物理性和概念性的空间)的深刻理解,也因此希望观众可以参与和互动到作品中来。
值得注意的是,本次展览主题的中英文语义并不一致,这也激发了展览的多重可能性。英文标题"Trespassing"是对空间传统意义的无视,而中文标题"不在此时"则暗指了时间的概念,从而造成主题对应语义的错位和缺失。但双标题展览依然能带来互补性:"Trespassing"让我们出现在本不该出现的场域。我们失去了确切的时间,却得到了相应的空间。
杨振中1968年出生于浙江杭州,自1997年起生活并工作于上海。作为上海这个地域最重要的艺术家之一,他连续十几年来与上海艺术家们自主策划了十几场极具影响力的新媒体当代艺术展,不仅大大活跃了上海的新媒体艺术的氛围,自身的艺术也由此迈向国际艺术舞台。其作品不仅参加了威尼斯双年展、上海双年展、亚太当代艺术三年展、里昂双年展等国际大展,亦被纽约MOMA,英国IKON美术馆、日本福冈亚洲美术馆、法国国家现代艺术博物馆、瑞银集团等重要公私艺术机构所收藏。
展览主办:OCT当代艺术中心上海馆
展览协办:华侨城(上海)置地有限公司
友情赞助:香格纳画廊,CP Denmark+网庭影音机构,上海浦西开元大酒店
特别鸣谢:乌力·希克,上海K11艺术基金,外滩十八号